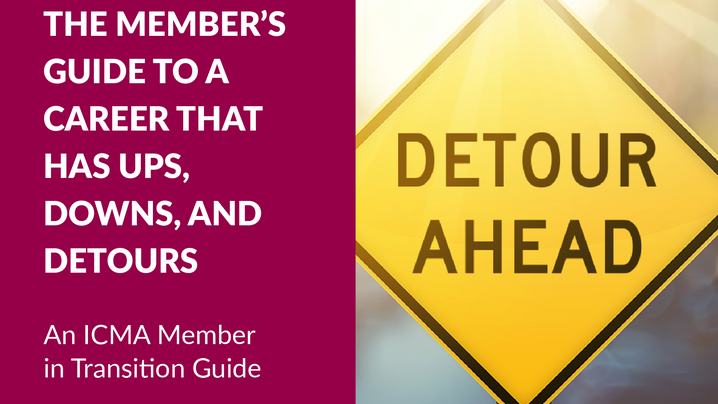 Recognizing that professional city and county managers can face termination at almost any time, ICMA is committed to supporting members who find themselves separated from their jobs or who see termination on the horizon. ICMA provides an array of personal support, benefits, and resources for our members in transition (MITs).
In fall 2020, ICMA President Jim Malloy appointed a Task Force on Members in Transition to assess the organization's offerings for MITs and recommend ways to strengthen them. One of its activities was to review ICMA's existing publication for MITs—Notes for Beachcombers: A Survivor's Manual for Local Government Managers and Spouses. The task force concluded that the Beachcombers publication was due for revision, and its members had a productive year researching and preparing this new guide to replace it. In addition, the task force developed a series of recommendations for consideration by ICMA and state associations. The culmination of the task force's work is this career guide: The Member's Guide to a Career that Has Ups, Downs, And Detours.
What's Inside:
Preparation and Prevention.
Navigating the Transition.
Terms of a Typical Employment Agreement.
Warning Signs.
ICMA has prepared this guide not only for members who have been fired but also for those who want to be alert to the warning signs of potential termination, take preventive measures, prepare themselves and their families to withstand the trauma of termination, and navigate a smooth departure from the old job and a successful search for the next one. This guide also provides tips for members who want to support their peers who are MITs.
Whether the termination is negotiated or involuntary, the MIT faces many of the same challenges and many of the same decisions affecting family members—partner's career, children's schools, and possible uprooting from a familiar community and starting over in a new one.
Throughout this guide, you'll learn about the ways ICMA supports MITs. One particularly valuable resource is the ICMA Senior Advisor program offered in partnership with state associations. Senior advisors are experienced former managers who volunteer their time to support members who need confidential advice and perspective on professional and personal dilemmas.
Thank to task force members for their untiring work and dedication to this project.
Task Force on Members in Transition, 2020–2021 (affiliations at the time of publication)
Co-Chairs
Eric Norenberg, executive director, Centre Region Council of Government, State College, Pennsylvania
Charlene Stevens, senior vice president, GovHR USA, Northbrook, Illinois
Members
John Drago, Apopka, Florida
Veronica Ferguson, Santa Rosa, California (former county administrator, Sonoma County)
James Fisher, Brenham, Texas
Kellie Hebert, town administrator, Sterling, Massachusetts
David Hodgkins, town manager, Farmville, North Carolina
William E. Johnson lll, city manager, Emporia, Virginia
Brenda Miller-Fergerson, director of human resources, Webster, Texas
Cole O'Donnell, city administrator, Keokuk, Iowa
James Proce, city manager, Anna, Texas
Tim Rundel, city manager, Weed, Oklahoma
De'Carlon Seewood, deputy city manager, Columbia, Missouri
Cathy Swanson-Rivenbark, Coral Gables, Florida
Jeffrey Weldon, Sauk Centre, Minnesota
James Wheeler, city manager, Poquoson, Virginia
Mark Wollenweber, Burtchville, Michigan